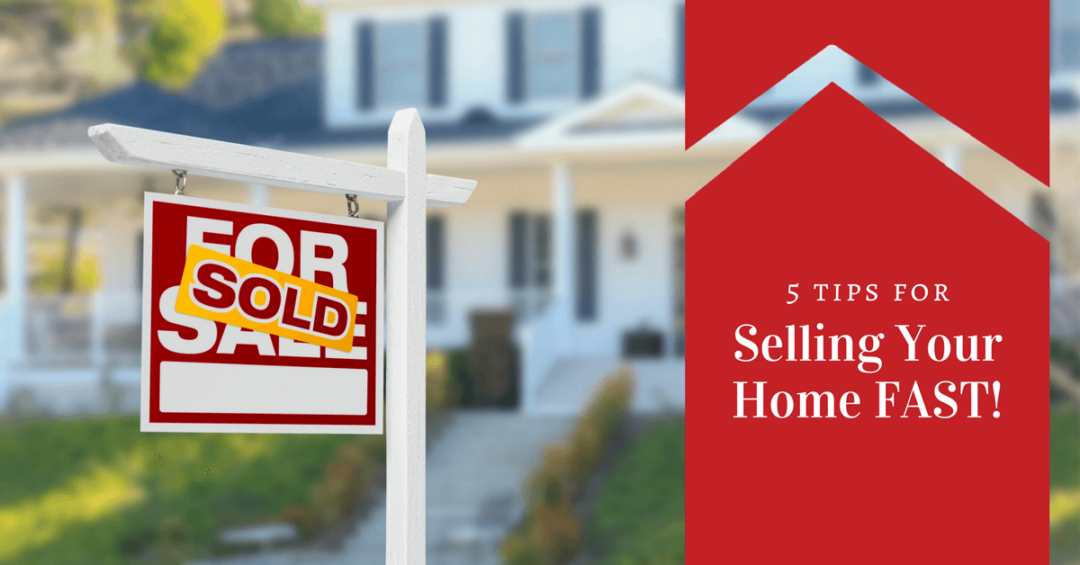 Do you need to sell your home FAST? You need to approach things a little differently if your goal is to sell your home as quickly as possible. Read on for our top five tips for selling your home fast!
1: First impressions are everything!
Buyers draw a lot of conclusions based on what they see within the first minute of visiting your home. A house that looks neat and tidy suggests that the home has been well maintained. A messy house makes buyers wonder if you've been messy with maintenance and repairs.
Make sure your yard is tidy and has good curb appeal. This is one area where you may want to consider doing some upgrades before listing your home. Usually, investments in curb appeal have a significant positive impact on the value of your home. It's still a good idea to discuss this with your Realtor first, though. Your Realtor can advise whether or not the investment is likely to pay off.
If nothing else, just make sure the exterior is well mowed, weeded, and clutter-free. If algae has formed on the side of your house – something very common in our humid climate – have your home professionally power washed.
On the inside, make sure your home is spotless and free of clutter. Clean, clean, clean, and then do some more cleaning! Do whatever it takes to scale down your stuff so that buyers have nice, clear views throughout the home. This includes removing personal photos. The old adage is true… You want buyers to picture themselves living in your house. That's hard to do when your photos and stuff are all over the place.
Consider fresh paint if your walls are scuffed or dirty. Even if you've cleaned the house from top to bottom, dingy walls can create the impression that the home is dirty.
2: Price your home competitively.
This is probably the #1 factor that will determine whether or not your house sells quickly. If you over-price, you'll have little interest from buyers. And the longer your home sits on the market, the less appealing it is. It's hard to overcome the initial impression that the owner (you) isn't willing to sell at market value.
It's your realtor's job to understand the market and provide guidance on pricing – carefully consider their advice! This article about how to price your home also has some helpful advice.
If you aren't seeing much activity once you've listed your house, it's probably because your price is a bit high. Discuss lowering the price with your Realtor. It's better to do that sooner rather than later if your goal is to sell your home quickly.
3: Tackle any necessary repairs.
Most offers will be contingent upon a home inspection. Also, you're legally required to let buyers know about any problems you're aware of. So if there's something that needs to be fixed, go ahead and take care of it. This will result in a better inspection and a faster close.
A word of caution though: Be realistic about your ability to tackle any repairs yourself! If you're not experienced with repairs and maintenance, you'll be better off hiring a professional. A sloppy repair is often worse than none at all.
Also, don't pursue any major renovations without discussing with your Realtor first. It's unlikely that a remodeled kitchen or bathroom will increase the value of your home enough to make it worth the cost. You're better off reducing your price a bit to account for these outdated spaces. That gives the buyer the opportunity to make their own changes that suit their tastes and lifestyle.
4: Get great photos of your house.
Listings with great photos get significantly more traffic. Great photos practically pull buyers through your front door!
Take exterior photos on a bright, sunny day. Make sure interior photos are well lighted and in sharp focus. Open the curtains to let the natural light in. Make sure your rooms are clutter-free and looking their best. If you're not a great photographer, ask a friend with a good eye to help you out. You may even want to consider professional photography. If that's not an option, this article about taking real estate photos with an iPhone offers great advice.
5: Harness the power of social media!
It's your Realtor's responsibility to market your property, but social media makes it easy for you to help out. Ask your realtor to post your listing on their Facebook page and other social media platforms. Like and share the post, and ask your friends and family to do the same. This exponentially increases the number of people who will sell your listing.
We'd be happy to share more tips on how to sell your home fast! Just give us a call or shoot us a message if you'd like to discuss a marketing plan for you home.